PFA Lined Magnetic Drive Pump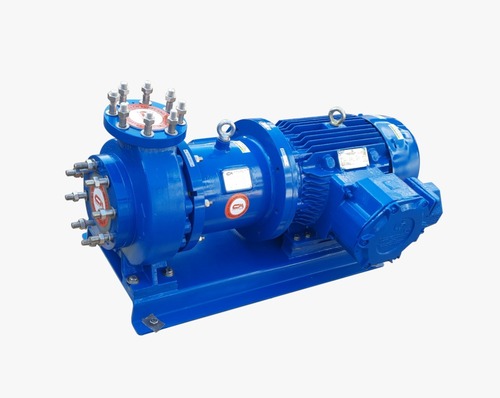 PFA Lined Magnetic Drive Pump
Price And Quantity
Product Specifications
Product Description
PFA lined magnetic drive pump include sealed, leak-proof motor and impeller assemblies. This design prevents environmental contamination and offers improved containment of dangerous and corrosive substances. The motor in this offering is hermetically sealed, so there are no exposed seals to deteriorate or leak. A magnetic connection connects the motor and impeller, enabling complete flow and pressure without the use of mechanical seals. The PFA liner is compatible with a variety of liquids and chemicals and guards against wear, corrosion, and abrasion. PFA lined magnetic drive pumpcomes in a variety of sizes, materials, and construction.
Features:
Single Stage, Horizontal Centrifugal Pump.
Technical design based on DIN EN ISO 15783
Permanent Magnet Drive
Hydraulic Performance and Dimensions according to DIN EN ISO 2858
Maintenance Free
Separation of Liquid Chamber to Atmosphere by Means of Isolation Shell
Slipless Power Transfer
Materials: Steel, Stainless Steel, Nickel Based Materials
Close Coupled Block Design
Hydraulically balanced impeller for minimum bearing loads
Product-Lubricated Journal Bearings made of Silicon Carbide (SSiC) or Customized Materials
Pressure rating
Connection flanges
Drilled to ANSI/ASME B 16.5
Gasket materials
O-ring materials
BEARING ASSEMBLY


Materials
SSiC (sintered silicon carbide)
SSiC with diamond-like coating (ADLC)
CONTAINMENT SHELL (CAN)


Materials
Carbon fiber reinforced + PTFE
Versatile Complex Special
CMs PFA lined magnetic drive pumps are engineered to meet the most stringent quality standards and ensure reliability and utmost safety in production operations. Suitable for many different fluids in a variety of industries and processes, they are capable of handling low, medium and high flow volumes. PFA lined magnetic drive pumps from CM offer tremendous advantages, especially in pumping sensitive or hazardous substances.
Industries
Chemical processing :- basic and fine chemicals (agrochemicals, specialty chemicals)
Pharmaceuticals
Biotechnology processing
Processes
CMs PFA lined magnetic drive pumps are designed for a wide range of processes, including:-
Chlor-alkali electrolysis
Sulphuric acid recycling
Tank unloading
CMs PFA lined magnetic drive pumps can handle hot and/or highly concentrated acids, alkalis (basis), solvents and diffusing fluids.
Bromine
Chlorine
Nitric acid
Phosgene
Potassium hydroxide solution
Sodium hydroxide solution
Sulphuric acid
Technical Details